Le petit roman
VIP Horse Rides
---
Ask for a private outing to discover Alpilles Natural Park at your rythm, canter and gallop, make stops to enjoy the landscape.
Want some originality and intimacy ? Le Petit Roman proposes new and  exclusive concepts.
locATION
---
Le PETIT ROMAN is located at the heart of Alpilles Natural Park. OUR + FACTOR : An ideal location which allows a direct access to riding itineraries without crossing a road.
HORSES
---
Our horses are grown in a natural environment ; they are used to hiking. OUR + FACTOR : Their different characteristics allow each rider to be allotted a horse suited to his experience level.
LABELS
---
BIENVENUE à la FERME, is an agritourism network uniting horse farms and breeders ; CHEVAL ETAPE FFE identifies stables which can accomodate horses and label VALEUR PARC reflects our eco-friendly and sustainable practices.
HORSE RIDES
---
At horse's pace you will discover the richness of Alpilles Natural Park. OUR + FACTOR : Sébastien, the the main guide, is a champion of western equitation and contestant at the Team Roping World Series in Vegas.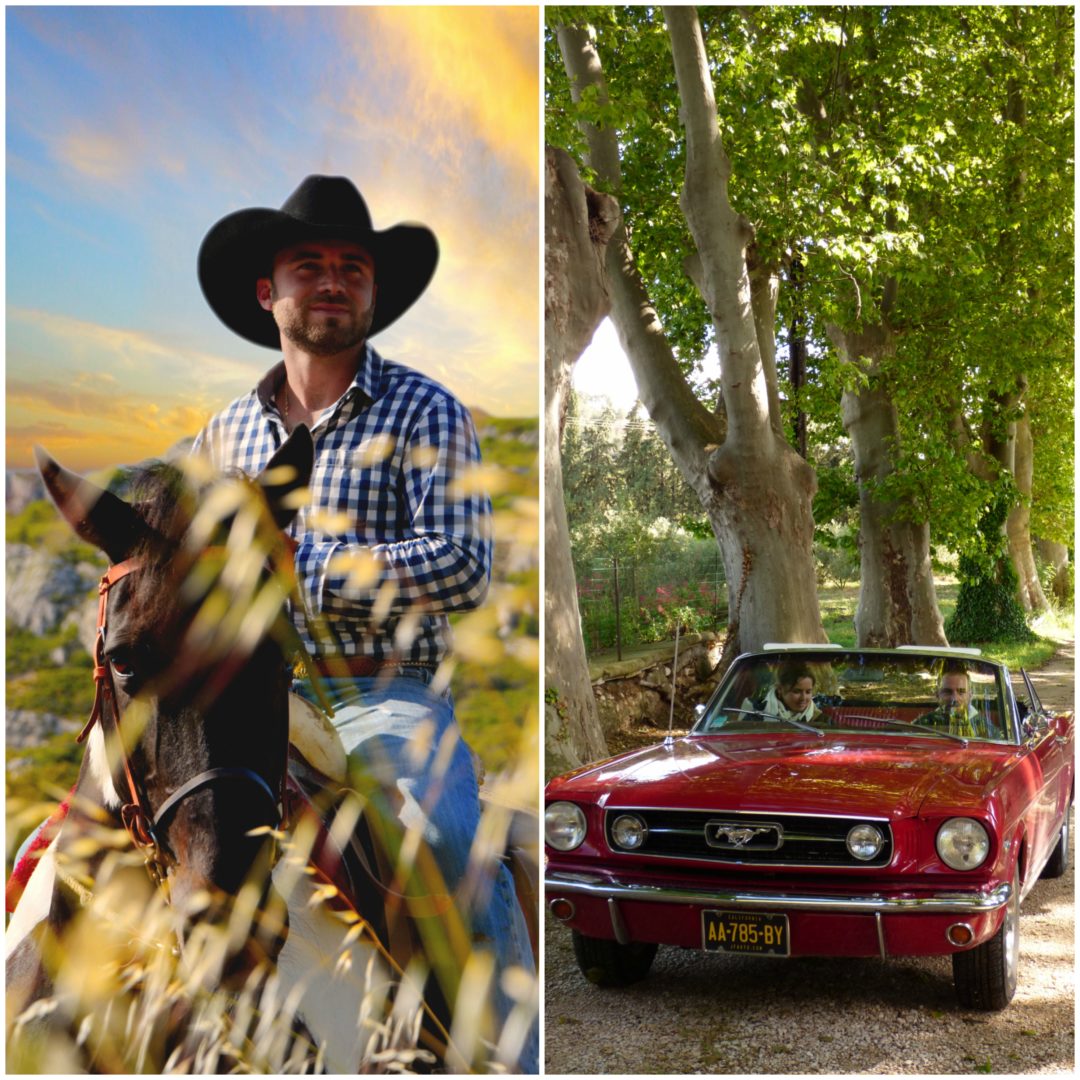 Offers
A la carte
---
Private Horse Ride
1H30 Private Horse Ride for 1 rider: 100 €

1H30 Private Horse Ride for 2 riders : 50 € / pers

3 HOURS Private Horse Ride for 1 rider : 150 €

3 HOURS Private Horse Ride for 2 riders : 80 € / pers
Mustang Ride
Drive and Horse Ride in Mustang for 4 persons : 800 €

Drive and Horse Ride in Mustang for 2 persons : 500 €
Horse Ride + Mini Dégustation
2 HOURS Private Horse Ride + Mini Dégustation for 1 PERS : 150 €

2 HOURS Private Horse Ride + Mini Dégustation for 2 pers : 100 € / pers

2 HOURS Private Horse Ride + Mini Dégustation for 4 pers : 70 € / pers

2 HOURS Private Horse Ride + Mini Dégustation for 6 pers : 60 € / pers

Balade Groupe Exclusif 2H00 + Mini Dégustation p/ 8 pers : 50 € / pers
Horse Ride + Surprise Eveil des papilles
Half a Day Private Horse Ride + surprise for 1 pers : 300 €

Half a Day Private Horse Ride + surprise for 2 pers : 200 € / pers

Half a Day Private Horse Ride + surprise for 4 pers : 180 € / pers

Half a Day Private Horse Ride + surprise for 6 pers : 160 € / pers

Half a Day Private Horse Ride + surprise for 8 pers : 50 € / pers