Le Petit Roman
Several day Outings
---
Located in the beautiful Alpilles Natural Park of Provence, France, LE PETIT ROMAN Ranch offers a truly unique experience.
THE SCENERY IS BEST EXPLORED ATOP A GENTLE HORSE !
Come and experience horse rides throughout Alpilles Natural Park all year long.
LOCATION
---
Le PETIT ROMAN is located at the heart of Alpilles Natural Park. OUR + FACTOR : An ideal location which allows a direct access to riding itineraries without crossing a road.
HORSES
---
Our horses are grown in a natural environment ; they are used to hiking. OUR + FACTOR : Their different characteristics allow each rider to be allotted a horse suited to his experience level.
LABELS
---
BIENVENUE à la FERME, is an agritourism network uniting horse farms and breeders ; CHEVAL ETAPE identifies stables which can accomodate horses and label VALEUR PARC reflects our eco-friendly and sustainable practices.
HORSES RIDES
---
At horse's pace you will discover the richness of Alpilles Natural Park. OUR + FACTOR : Sébastien, the main guide, is a champion of western equitation and was final contestant at the Team Roping World Series in Vegas.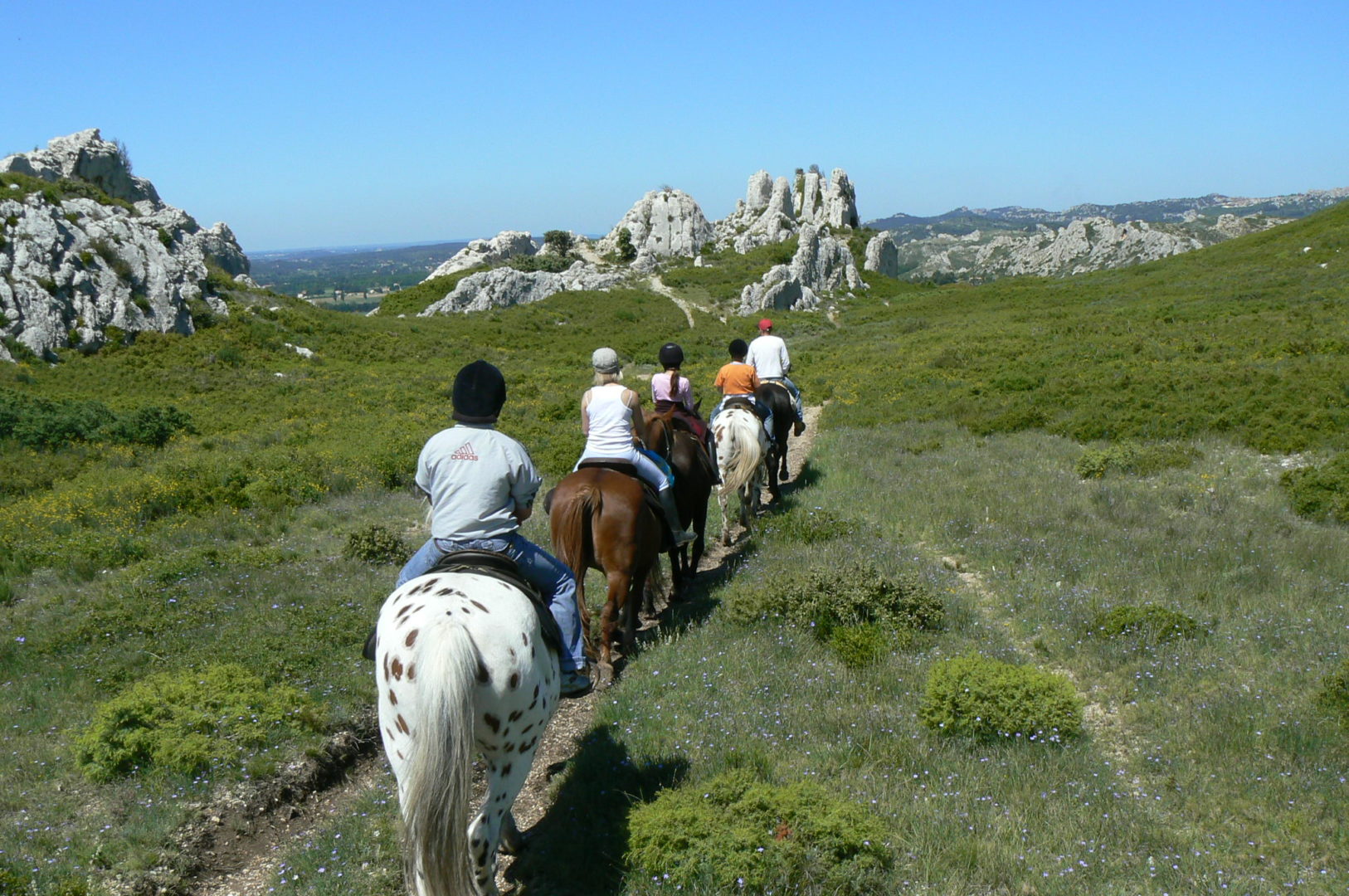 Our Offers
Horse Rides
---
1 Day Horse Ride
1 Day Horse Ride

Lunch included

A trail at the heart of Alpilles Natural Park

Price valid on the basis of 4 riders
2 Days Horse Ride
2 Days Horse Ride

2 Days horse riding + 1 night + meals from D1 to D2 lunch

A Horse Ride at the heart of Alpilles Natural Park

Price valid on the basis of 4 riders
3 DAYS HORSE RIDE
3 DAYS HORSE RIDE

2 Days horse riding + 2 nights + meals from D1 to D3 lunch

A Horse Ride at the heart of Alpilles Natural Park

Price valid on the basis of 4 riders
4 DAYS HORSE RIDE
4 Days Horse Ride

4 Days horse riding +3 nights + meals from D1 to D4 lunch

A Horse Ride at the heart of Alpilles Natural Park

Price valid on the basis of 4 riders
BIVOUAC HORSE RIDE
2 Days Horse Ride

2 Days Horse Ride + 1 night under tepees or tents + meals from D1 lunch to D2 lunch

A Horse Ride at the heart of Alpilles Natural Park

Price valid on the basis of 6 riders