Le Petit Roman
Horse Rides
---
THE SCENERY IS BEST EXPLORED ATOP

A GENTLE HORSE

 !
LE PETIT ROMAN Stabbles offer a truly unique experience. Come and experience horse rides throughout Alpilles Natural Park of Provence, France, all year long.
Horse Rides in summer time from  8AM to 10 PM
Enjoy the best slots of the day !
Have a youngin'who's hesitant to ride a full-sized steed ? Don't fret. At Le Petit Roman, kids can saddle up on a gentle horse and little ones on a poney.
LOCATION
---
Le PETIT ROMAN is located at the heart of Alpilles Natural Park. OUR + FACTOR : An ideal location which allows a direct access to riding itineraries without crossing a road.
HORSES
---
Our horses are grown in a natural environment ; they are used to hiking. OUR + FACTOR : Their different characteristics allow each rider to be allotted a horse suited to his experience level
LABELS
---
BIENVENUE à la FERME, is an agritourism network uniting horse farms and breeders ; CHEVAL ETAPE FFE identifies stables which can accomodate horses and label VALEUR PARC reflects our eco-friendly and sustainable practices.
HORSE RIDES
---
At horse's pace you will discover the richness of Alpilles Natural Park. OUR + FACTOR : Sébastien, the main guide, is a champion of western equitation and was final contestant at the Team Roping World Series in Vegas.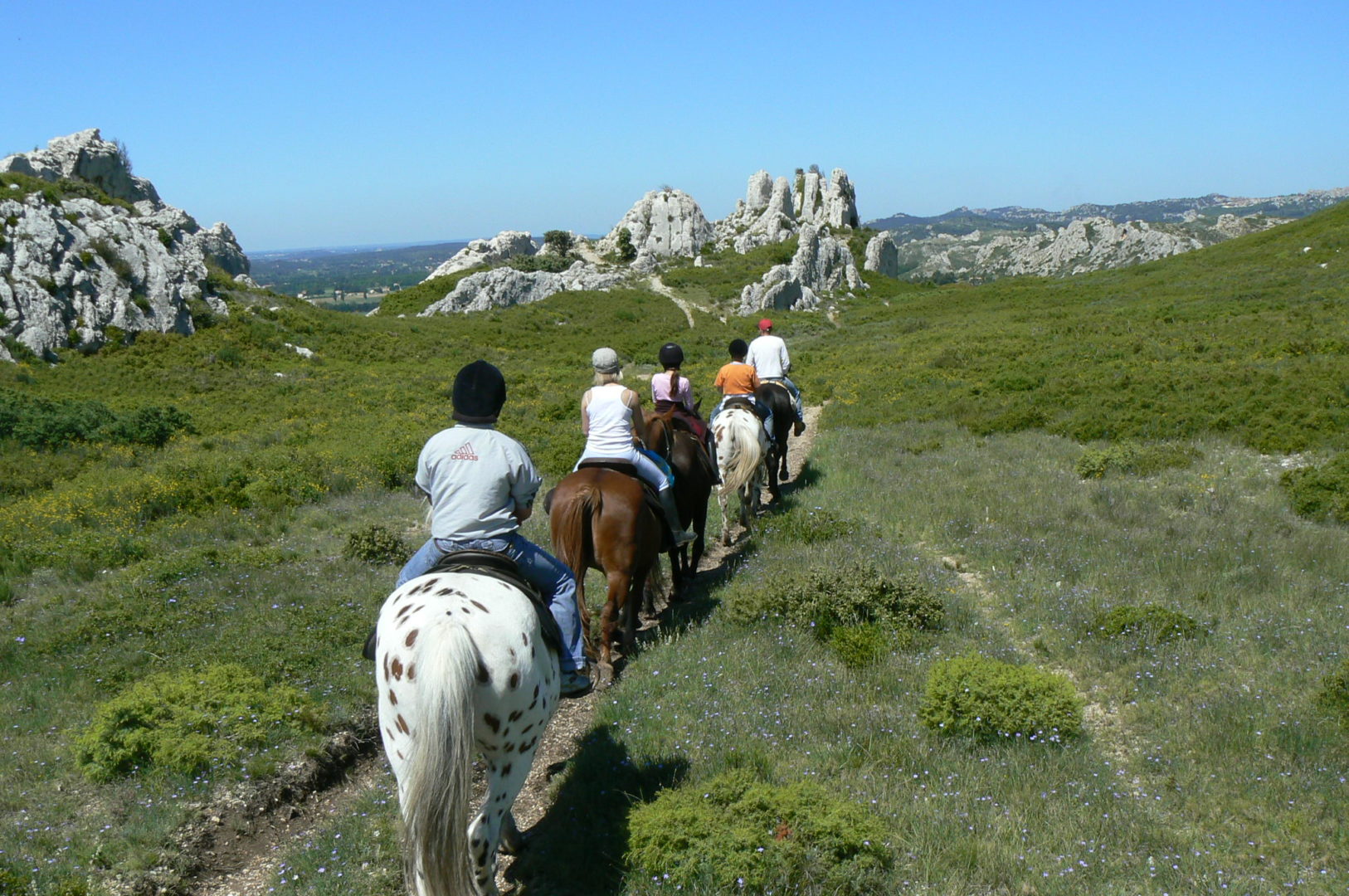 Our Offers
HORSE RIDES
---
1H30 HORSE RIDE
At horse's pace you will discover the richness of Alpilles Natural Park

The perfumes of the Provencal garrigue is ever present as the horses crush rosemary, thyme and cistus under hoof.

Price valid on the basis of a group made of 4 riders
HALF DAY HORSE RIDES
The scenery changes constantly throughout the ride. We pass under limestone cliffs, through ancient olive groves,

At one perfect moment on the summit of a ridge, a bird of prey, perhaps a rare Bonelli eagle, soares overhead

Price valid on the basis of a group made of 4 riders
TASTING HORSE RIDES
1H30 Horse Ride through rolling hills, Olive groves and Vineyards to discover local know-how.

Once you dismount, enjoy the tasting of olive produces such as olive oil, green and black olives, green tapenade, black tapenade

Prices valid on the basis of a group made of 4 riders

Formula EVEIL des PAPILLES 80€ / pers = 1H30 HORSE RIDE + TASTING of olive produces, goat cheese, bread, Camargue bull sausage, Alpilles wine,